The IberCup Experience - Estoril, Portugal
This is an Experience tournament
Read the tab "Referee Info" for more details.
Tournament Info
Referee Info
Observer Info
Accomodation
Location Info
Travelling
Tournament Info
The IberCup Estoril is the leading summer edition of the prestigious IberCup youth football tournament series.

Taking place near Lisbon, Portugal, it promises to host an array of elite teams who will compete for first place across a range of age categories.

The IberCup is currently one of the most important youth football tournaments worldwide. 2022 will mark the 11th anniversary of this event which brings together players and teams from 50 different countries, as well as around 500 referees from 40 different nations. A week of competition, fantastic experiences and extraordinary opportunities in a competition that sees the participation of some of the TOP professional teams in the world.

Famous teams like FC Porto, SL Benfica, Sporting Lisbon, FC Zenit, Liverpool FC, Atletico de Madrid, PSG, Ol. Lyon, Ol. Marseille, Sevilla FC and Chivas Guadalajara have competed over the years.

For the first time in 2022 an elite girls tournament will also be organized within the main Ibercup event, with professional female teams from all around Europe.
Referee Info
The Ibercup Estoril is an experience tournament (read more about our tournament types). 
By attending this tournament, included in the participation fee, you'll receive:

– Referee Abroad Membership;
– Accommodation for the entire tournament in Residence-style lodging with communal bathrooms;
– Full board across the week;
– Local public transport to and from games;
– a Referee Abroad coin, a Referee Abroad badge for your ref tops, and an exclusive Referee Abroad t-shirt;
– Observers from across Europe and beyond who will give you feedback on how to improve your refereeing;
– Games with assistants and fourth officials, and possibility of using communication headsets;
– Finals in stadiums / possibility of appearing on live TV;
– A fantastic week of refereeing, friends, and fun!
Flights to/from the experience location are not included. 
All referees over the age of 16 are welcome to apply for the Ibercup Experience.
Please note – if you are under the age of 18 you will need to travel with a responsible adult or have a full waiver signed by your parents/guardians sent to us before you travel.
Observer Info
The Ibercup Experience – Estoril is a development experience which aims at supporting up-and-coming referees from all around the world in becoming better match officials. In order to do so we welcome to the tournament referee observers (assessors) interested in aiding these match officials offering them feedback.
Every year we require around fifteen referee observers, as an observer you'll be entitled to:
– Free accommodation from the day before the tournament starts, to the day after the finals. 
– Free breakfast, lunch and dinner starting with dinner on the day of arrival, finishing with breakfast on the day of departure. 
– Free public transport to/from the hotel and pitches, as well as the airport. 
Read more and apply on our dedicated observers page. 
Accomodation
The experience package includes accommodation in a residence-style accommodation with communal bathrooms close to the Jamor football complex. Referees will share rooms with other officials.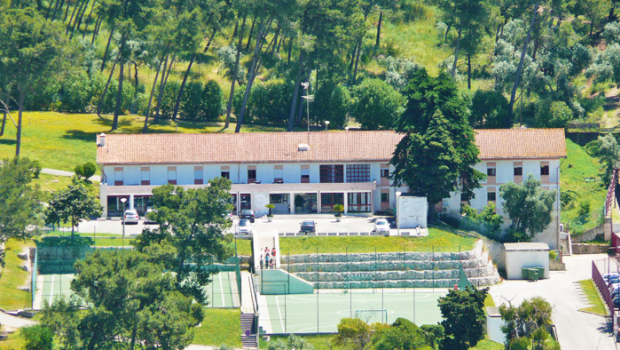 Upgraded accommodation is also available at a premium. Contact us for more details about this option.


Location Info
Estoril is a small beach town in Portugal in the greater Lisbon area. A former residence of the royal family and pioneer of tourism in Portugal, it is a very charming village. It is also the town that hosts Europe's biggest casino.

Dominated by the bay and the imposing Cidadela fort, the historic centre is brimming with architectural treasures of a religious, military and civil nature. Likewise, the museums of the Sea, Casa das Histórias de Paula Rego, and the Municipal Museum Condes de Castro Guimarães are also must-see attractions.

Lisbon, the capital of Portugal, lies only minutes away and offers all the delights you'd expect of Portugal's star attraction, yet with half the fuss of other European capitals. Gothic cathedrals, majestic monasteries and quaint museums are all part of the colourful cityscape, but the real delights of discovery lie in wandering the narrow lanes of Lisbon's lovely backstreets.
Travelling
The nearest international airport is Lisbon Airport (LIS).

It is the main air hub for TAP Portugal, a Star Alliance member airline that covers an extensive network throughout Europe, Africa and the Americas. There are also several other airlines flying into Lisbon from both European and non-European destinations.

The airport is a short metro+train ride away from where the tournament takes place or, in alternative, only about 20 minutes by car. Referees will be provided with a metro / train ticket or equivalent refund in order to reach Cascais.
"It was a great experience to be able to referee in an elite tournament in Estoril. The tournament gave me so many learning points to take back to my game in England. A truly enjoyable experience. I will certainly be returning for another TA tournament in the future". 
James Cliffe
Had an amazing experience at the Ibercup Estoril. Every game challenged me to be on top of my game. I learned so much & it has made me a better referee. TA was very helpful & supportive of the referees. I will certainly attend another tournament in the future. 
Alex Castro
The tournament as a whole was superbly run and I was pleasantly surprised by that standard and quality of not only the football but also the other match officials. Because of this our referees benefitted greatly and came aware as better referees than when they arrived. 
Lewis Smith
English County FAs - Notice for Self-Applicants
If you are an English referee belonging to one of the following County FAs, you will have to apply for the Ibercup Estoril via your Referee Development Officer: Cheshire FA, Durham FA, Essex FA, Hampshire FA, Lancashire FA, Lincolnshire FA, Manchester FA, Northamptonshire FA, Nottinghamshire FA, West Riding FA. Self-applications will not be accepted, unless specifically authorized by your County FA.
Apply for the IberCup Estoril
Date/Time
Date(s) - 04/07/2022 - 10/07/2022
All Day
Categories
By applying you have read, understood and agreed to our covid-19 policy, privacy policy and terms & conditions.
You will be notified about the outcome of this application in due course.
If a checkbox (saying "yaadilani") appears at the bottom of your application, tick it to confirm.
Please add info@refereeabroad.com to your trusted email list, or you may not receive updates concerning your application.
Applications
Applications are closed for this tournament.